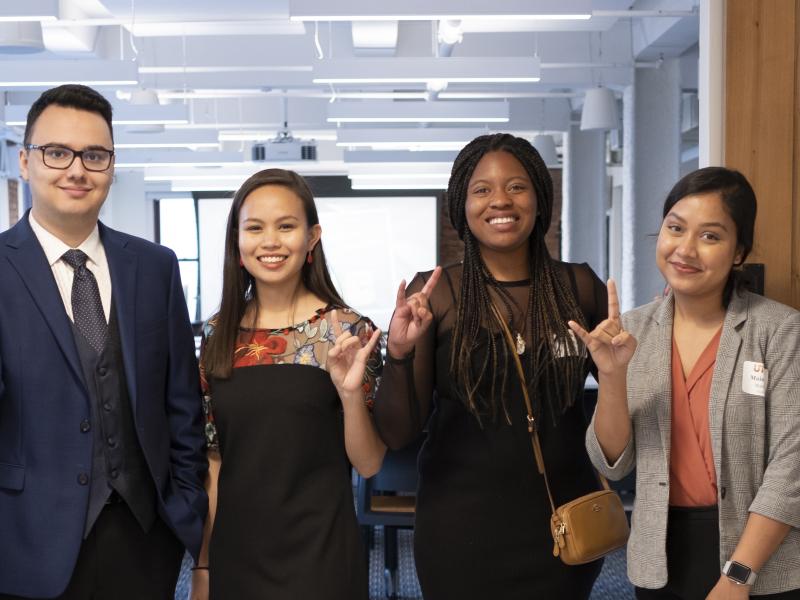 Let's Connect
We want to hear from you! Whether you're a student, a campus partner, an alum, or a company recruiter in New York, there are numerous ways to connect with UTNY and get involved.  
---
For Students
Come learn about UTNY!
There are numerous ways to connect with the program in whatever format works best for you. While most students participate in UTNY as upperclassmen, we recommend you start learning about the program as early as possible so you have time to plan and prepare.
UTNY Information Sessions
Heard of UTNY but want to know more?  This is for you.
We recommend that students start planning for UTNY as early as possible, even their freshman year.  We don't expect you to know anything yet - that's what this session is for!
This session includes everything you need to know about the UTNY program in one snappy hour.  Connect with the UTNY team, ask questions, meet your peers, and start planning for UTNY now. 
Sessions are offered weekly, both in-person and on Zoom. 
Review info session times and RSVP
All sessions are Central Time.
---
Ready to Apply Sessions
Thinking of applying for Summer 2024? Connect with our team before you apply.
This session expands upon content in the UTNY Information Session.  The content is specific to the semester of the upcoming deadline with a focus on getting ready to apply for UTNY.
Hear from special guest speakers from the UTNY NYC team and make sure all your questions are answered before you apply.  RSVP's are recommended.  
All sessions are Central Time.
Thursday, September 28
5:00 - 6:00 p.m.
Zoom
 
Monday, October 23
12:00 - 1:00 p.m.
Zoom
For Campus Partners
Advising a student interested in UTNY?
We're here to help! 
Reach out to our Austin-based team member Kate Uhlrich for answers.  You can email her at kuhlrich@austin.utexas.edu at any time, but if a student's in your office feel free to message her on Teams or give her a call.
Bring a little bit of New York your way
Networking is essential to UTNY students' success and connections start before they leave the Forty Acres. The UTNY program would not be possible without the tremendous support of partners across campus.
Our team is eager to engage with your department, including:
Tabling at resource fairs or departmental events
Co-branded events
Presentations for FIGs/TrIGs
Drop-in classroom visits
UTNY training and discussions for faculty/staff
Social media graphics and marketing materials for student-facing spaces
Have an idea for another partnership?  Connect with our team at utny@austin.utexas.edu.
---
For Companies and Alumni
Partner with UTNY
Because breakthroughs happen when diverse ideas and perspectives converge for a common purpose, The University of Texas at Austin is bringing Texas to New York City.
Students who participate in the UTNY program are eager to develop a network with UT alumni, leaders in their area of study, and companies that provide best-in-class internships and career opportunities.
There are many ways for companies and alumni to get involved with the program, from joining our partnership network to hosting a site visit.  
Partner with UTNY to hire student interns
Hold a information session about your company and internship opportunities
Host a site visit to your company headquarters for UTNY students
Attend student networking sessions
Represent your company at the UTNY career fair
Participate in panel discussions
If you have another idea for how you'd like to support UTNY students' professional development in New York, please reach out to us at utny@austin.utexas.edu.