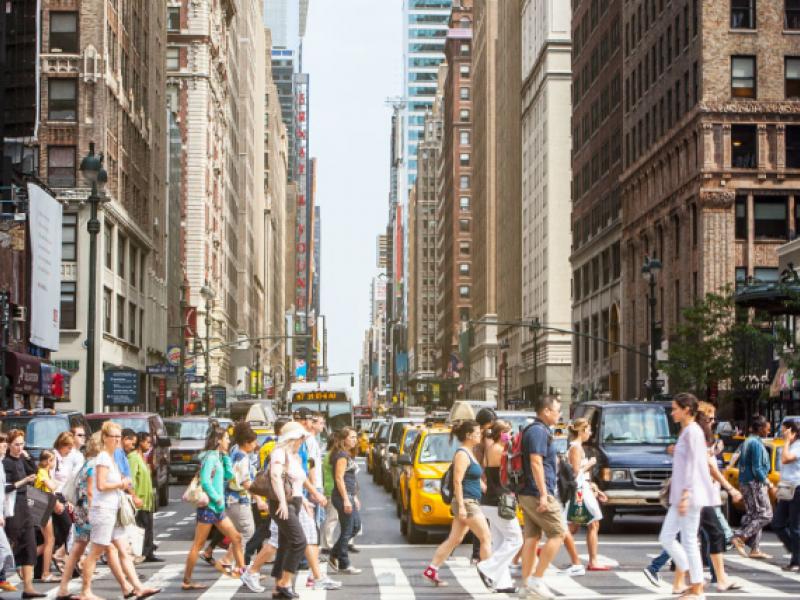 Living in New York is a life-changing experience.
UTNY immerses you in a wide range of cultures, making studying and living in New York City a unique international experience. The city's fast-paced lifestyle finds balance as a world-renowned capital of culture and innovation, with access to hundreds of museums, galleries and performing arts venues.
New York is the "American dream" where opportunity meets self-determination.
UTNY Housing
Live in UT contract housing.
Enjoy college life in one of New York's most coveted neighborhoods.
UTNY has contracted with Education Housing Services (EHS) to provide fully-furnished, double occupancy dormitory-style rooms at St. George Towers in Brooklyn Heights, a short subway ride from Manhattan.
The facility, which serves nearly 85 universities and colleges across the country, offers high-speed internet, TV, cable and phone service in each room. In addition, the facility has a common kitchen, meeting rooms, workout facilities, laundry, and 24-hour security.
Only double occupancy rooms are available through UTNY. Each room is shared by two students.
---
Housing costs per semester
| | | | |
| --- | --- | --- | --- |
| Session | Summer 2020 | Fall 2020 | Spring 2021 |
| Dates | Canceled due to CV-19 | Aug 24-Dec 7 | Jan 15-May 7 |
| Cost | $3,950 | $7,150 | $9,150 |
---
Live on your own.
Stay on your own or with your friends and family.
Students may choose to opt-out of the housing program and secure accommodations on their own in New York. In doing so, students accept full responsibility for the terms of the contract with their housing provider. Admitted students must provide their address information and proof of housing to UTNY no later than the first day of class.
Dorm room at St. George Towers