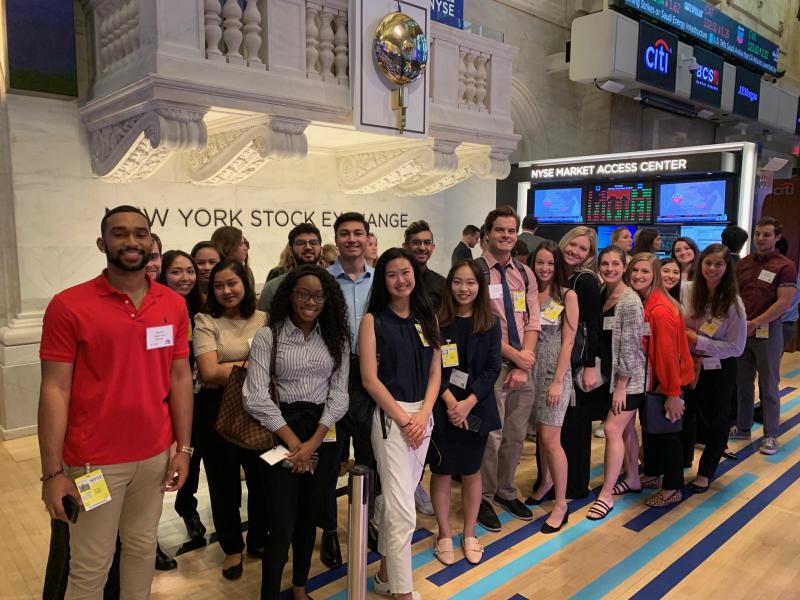 For UTNY students, learning is never confined to the four walls of the classroom. Every day, students apply concepts through collaboration. Project-based learning directly translates to real-world internship experiences.  
Along with your cohort of peers, you will experience New York City while learning "urban literacy" – taking advantage of the locales, institutions, resources, and expertise of local industry professionals – to enhance living and working in the city.
Courses
Advance toward your degree.
You can expect to earn 12 hours of in-residence upper-division credit while interning and living in New York. Industry professionals, sector experts and academic scholars are selected to teach New York-centric classes under the supervision of UT Austin faculty. Instructors emphasize theory and practice based on their respective professional experiences.
You are required to register for the UTNY common course and a 3- or 6-credit internship course within your major department. You will select an additional 1 or 2 UTNY courses to meet the 12 credit minimum.
Common Course
This course is required of all UTNY students
MAN 340 / COM 340 / L A 340 / F A 345: Leadership and Urban Engagement

Ethics (E) flag
MAN 340 substitutes for MAN 320F in Business minor and Global Management minor
MAN 340 counts as a Sports, Managing People, and Leading Organizations course in the Analytics and Business of Sports minor
F A 345 counts toward Ethics & Leadership in Business BDP certificate and Ethics & Leadership in Law, Politics, and Government BDP certificate
MAN 340 counts toward Management minor
COM 340 counts as a Culture and Communication course for the Human Dimensions of Organizations major
Internship or Independent Study Course
All students must enroll in a 3- or 6-credit internship course or independent study course. This course counts toward the UTNY 12 credit requirement regardless of which department owns the course. See the Work page for more information on internship course options.
UTNY Courses
Select additional UTNY courses to complete your enrollment 
MKT 337N: Intro to Marketing in New York

Same as MKT 337, an upperdivision business core course (required for all business majors)
A required course for the Advertising major and Public Relations major
A required course toward the Professional Sales and Business Development minor
Substitutes for MKT 320F in the Business minor, the Arts Management and Administration minor, the Analytics and Business of Sports minor, and the Communicating for Development and Philanthropy minor
 

TXA 365: Inside Fashion: The NYC Fashion Industry
URB 301 / GRG 307C: Introduction to Urban Studies-UTNY

Offered Fall 2024 only
Cultural Diversity (CD) flag, Social and Behavioral Sciences Core
Fulfills the Additional Social Science requirement for Liberal Arts majors
Counts as an upper division GRG course for the Geography minor
Counts as a Human Geography core course and an Urban Geography track course for the Geography major 
A required core course for the Urban Studies major
 

AMS 330 / ARH 339Q / URB 320M (URB 352): Modernism in American Design & Architecture: NYC

VAPA requirement and Cultural Diversity (CD) flag
Not offered in Fall Semester
Fulfills the Cultural Expression, Human Experience & Thought requirement for Liberal Arts core
Counts as an upper division ARH course, fulfilling a degree requirement for all Department of Art and Art History majors
Counts toward the Urban Studies major
Counts toward the Art History minor and American Studies minor
 

F A 346: Inside the Visual and Performing Arts of New York City

Counts as Media Studies for RTF majors; counts toward RTF 36 hour coursework requirement, but not against the 48 hour RTF limit.
Counts toward Media and Entertainment Industries minor (petition required for pre-22/24 catalogue) and the Arts Management and Administration minor
 

ADV 378 / PR 378: Social Issues in Advertising and PR in New York City

Counts as an upperdivision ADV course for Advertising majors and upperdivision P R for Public Relations majors
Counts as a social issues course for Communication and Leadership major
Courses are subject to change.