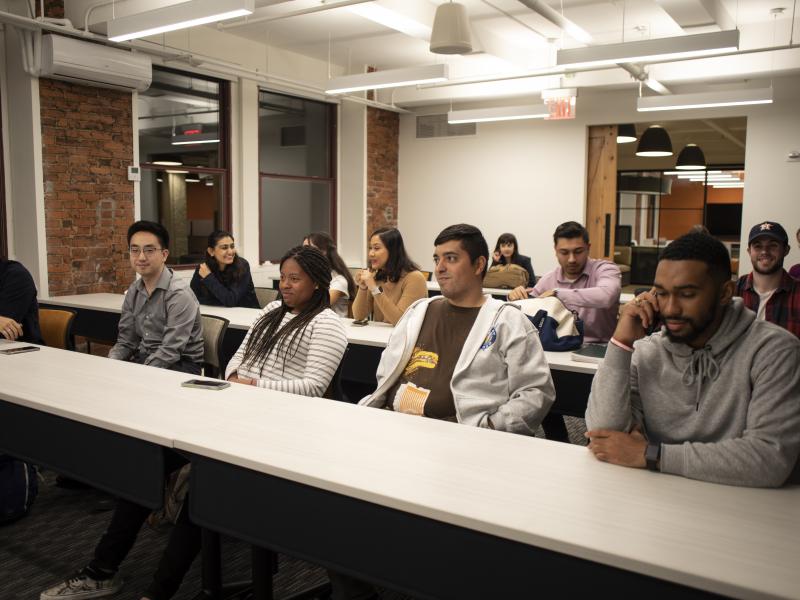 Each UTNY student must enroll in at least 12 hours of UTNY-specific course credit, i.e., full-time status, while participating in the Semester in New York program.
In most cases, students will take six hours of internship credit within their respective major, COM 340/F A 345/MAN 340 - Leadership and Urban Engagement, and three additional hours of UTNY-approved elective coursework.
UTNY Required Course
New York City has long been a proving ground for leaders eager to show that "if I can make it there, I'll make it anywhere." As a world capital of the arts, diplomacy, finance, and media, the city serves as home to many highly successful leaders and as a classroom for people seeking to cultivate leadership skills. In this unique seminar, students will study concepts and strategies of leadership and also meet leaders in the city who put these ideas into practice. In weekly seminar sessions, students will read about and discuss leadership challenges that arise when stakeholders come together to plan, make decisions, and take action in organizational and community settings. In colloquium sessions and tours, students will interact with leaders in arts, finance, and media organizations in the city. 
This seminar introduces students to activities and processes that are essential to leadership: conceptualizing motivation, identifying traits, creating a vision, understanding influence, overcoming obstacles, developing character, and establishing a professional brand. It also provides an opportunity to cultivate self-awareness and self-assessment to learn how to recognize and utilize the differences between oneself and others. Students will receive ongoing feedback from their peers and a chance to develop their own philosophy of leadership. The successful student should be able to answer the question, what does it take to be a 21st-century leader in New York City?
UTNY Electives
CMS 327 - Urban Communication
A city is a complex space where individuals, groups, communities, cultures, and technologies interactively participate in communicative transactions. Grounded in the understanding of urban space as media, this course looks closely at how spaces represent and are represented by communication patterns. It covers a variety of issues ranging from crisis communication to monuments and public spaces. And it places special emphasis on the role cross-cultural relations, language, and media play in shaping personal and social identity in an urban context. You will begin the course with a look at your own communication practices as you move to the city. Once you've arrived, you will conduct a series of research assignments grounded in participant observation. You'll finish with a qualitative paper that draws on that research and other experiences you had during the semester to discuss the implications of the cultural practices, economics, politics, technology, and other factors that shape urban communication and the implications those relationships have for people who live in the city.
AMS 330/ARH 339Q/URB 352 - Modernism in American Design & Architecture: NYC
Throughout the 20th century, New York set the standard for what a "modern" city could be. This course will explore key architectural trends and movements, including Art Deco, the so-called "battle of the styles" between traditional and modernist vocabularies, and the rise of International Style Modernism as the style of choice for corporate America in the post-World War II era. Lectures, discussions, and readings will cast the net widely to examine concomitant issues resulting from technological, economic, and social change. Recent architecture will also be examined, with a particular focus on density and sustainability within the context of climate change and global public-health conditions. The course will look at the work of lesser-known architects and designers, as well as of some of the world's most famous practitioners, and will consider buildings in all five boroughs, not merely Manhattan. Walking tours to emblematic buildings and places will expand upon in-class presentations. 
FA 371 – Inside the Arts of New York City
From Broadway to Brooklyn and far beyond, New York City has a long, evolutionary, and singular presence in the visual and performing arts as one of the greatest cultural capitals of the western world. Through course readings, class discussion, site visits to major art institutions - both historic and those considered more experimental – supplemented by guest speakers, including practicing artists and art scholars, students will gain first-hand and behind-the-scenes knowledge of the depth of art practice and scholarship as defined and shaped by the city itself.
MKT 337N - Principles of Marketing
Introduction to basic concepts and terminology in marketing: the process of developing a marketing strategy, the role of marketing activities within the firm, external influences that affect the development of marketing strategy, and basic analytical tools appropriate to marketing decision making.
Designed to expand understanding of the marketing system and basic marketing activities and to provide a framework for marketing strategy development and implementation of marketing tools and tactics.