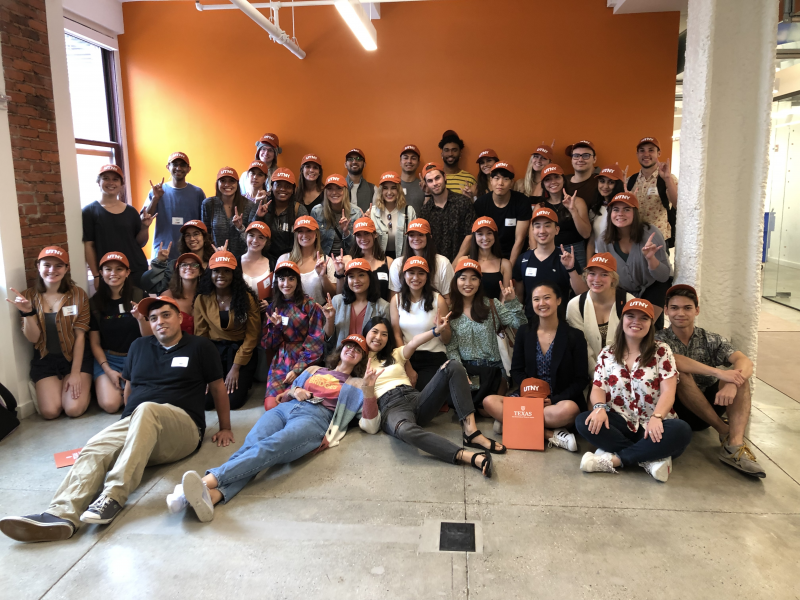 The Basics
The UT in New York Program, otherwise known as UTNY, is an internship-first, experiential learning program that gives students from all majors an opportunity to spend a semester in New York learning about the culture and industries that make NYC one of the most desirable places to launch a career. Students take UTNY-specific classes and complete a for-credit internship while immersing themselves in the city.
Three sessions are available each year: Fall, Spring, and Summer. The session dates generally follow the UT Austin academic calendar.
UTNY is open to all UT majors and any students interested in spending a semester in New York City.
UTNY recommends that students complete 60+ credit hours by the time of participation in the program; however, UTNY also considers applications from students with at least 30 completed hours of coursework with the recommendations of the admissions committee. These hours can be a combination of in-residence, transfer, AP, or credit by exam.
Students can always apply to the program with less than 30 hours, but they must, at minimum, have 30 hours completed by the beginning of their semester in New York.
Students must apply and be accepted by UTNY into the program. Upon admittance, students must enroll in three or six hours of internship credit and six to nine hours of UTNY-specific academic coursework, including the UTNY common course, adding up to a full-time course load (12 hours or more).
Students must secure an internship and reside in New York while participating in the program.
Yes, if admitted, students can participate in the program up to one year after graduation. Graduated students must follow all program policies, including enrolling in 12 UTNY credits of coursework. In most cases, students who have already graduated are not eligible for financial aid or scholarships. There may be fewer internship opportunities available due to company policies which may require internship applicants to be full-time students pursuing a bachelor's degree.
Application
The UTNY application can be accessed on the Apply page. There is no application fee, and students can apply as many times as they like. The deadline is typically two semesters before the semester in New York. 
To apply, students upload their resumes and answer one essay question about their interests and goals for their participation in the UTNY program. The application process is competitive, so UTNY recommends that students have their college or school career services office review their resume before submitting. 
Cohort size varies from semester to semester. Although admission to the program is competitive, UTNY has historically admitted those students in good academic standing who submit a thoughtful, well-written essay response and have an up-to-date professional resume.
Admission offers are typically released two to three weeks after the application deadline. When an admitted student accepts the offer of admission, they pay a non-refundable deposit of $1,000 to secure their spot in the program. UTNY applies this to the overall program fee. The remainder of the program fee is due at a set date before the start of the semester.
Once students pay the deposit, with the support of the UTNY team, they begin preparing for their internship search.
Internships
Students are ultimately responsible for securing their internship. Students are supported by UTNY staff based in Austin and New York and their college's career services office. The internship search and application process begins immediately after a student is admitted to the program, approximately two semesters ahead of a student's arrival to New York.
In the pre-departure semester, the UTNY staff in Austin and NYC offer workshops and one-on-one support to help students tailor their resumes and cover letters to the New York audience. The UTNY team also provides students with industry-specific tips to help them successfully secure their internship. UTNY's internship database provides students exclusive access to a wide range of opportunities with our industry partners. The UTNY staff tracks each student's search and application progress and offers support and suggestions as they navigate the entire process—from preparing application materials to internship acceptance.
Yes, students can secure an internship without the support of UTNY staff; however, students must keep UTNY staff updated on their application progress during the pre-departure term.
Many, but not all, internships are paid. All UTNY students are required to register for UT a 3- or 6-credit internship course.
All UTNY students must register for a 3-credit or 6-credit internship course. In most cases, students register to receive credit in their home college, school, or departmental unit. Each unit has its own processes and requirements. UTNY encourages students to speak to their academic advisors to determine which internship credit is best for their degree plan.
UTNY students also have the option to enroll in one of the following UTNY-specific, for-credit internship courses.
COM 350 Communication Internship UTNY
COM 650 Communication Internship UTNY
Although each for-credit internship course has slightly different criteria, in general, the number of hours a student interns at their internship each week per semester determines the internship credit.
Three-credit internship class: Approx. 175 hours at student's internship (~12-15 hours/week) 
Six-credit internship class: Approx. 350 hours at student's internship (~24-30 hours/week)
UTNY students intern with companies and organizations in many different industry sectors. There are multiple opportunities for all majors within NYC. Recent examples include:
Dolphin Entertainment
The Tonight Show (NBC Universal)
Hangar Studios
Couched
Brookside Artist Management
TigerBeat
CBS News
Mick Management
Indigo
The Bridge
Fox News
ID Public Relations
Beige Cashmeere
Magnet Media
CollegiatePress
Here Publicity
BerlinRosen PR
D'Exposito & Partners
Yes, some students complete more than one internship while participating in UTNY. If students secure a part-time internship but want to spend more time interning, a second internship might be desirable. Successful UTNY students balance internships, UTNY classes, and experiential learning activities while leaving time to explore NYC. Students must also calculate whether the 3- or 6-hour internship course is best for their academic plan.
Internships are highly competitive, but there are ample opportunities in New York. Students who have an open mind and take charge of their internship search by following UTNY guidelines throughout the application process tend to have the most satisfying internship experiences.
UTNY Courses
UTNY courses are place-based; the city becomes the classroom. Classes are open to all UTNY students, regardless of major. 
UTNY classes are typically scheduled in the evenings, Monday through Friday, at the UTNY Center in midtown Manhattan.
Industry professionals living and working in New York teach UTNY classes. Dr. Laura Brown, Program Director, teaches the required Leadership and Urban Engagement course.
Students are required to enroll in at least 12 hours of UTNY-specific coursework, which includes three to six hours of internship course credit. 
Students must enroll in COM 340/F A 345/MAN 340/L A 325 - Leadership and Urban Engagement.
Before enrolling in the program, students should talk with their academic advisor to understand how UTNY program courses and internships count toward a student's degree plan (i.e., major, minor, or certificate). 
Yes, but those courses do not count toward the minimum amount of UTNY-specific hours required for the program (12 hours).
Experiential Learning Opportunities
Experiential learning activities and programming vary each semester. UTNY tailors them to each cohort. In the past, cohorts have experienced worksite visits, networking events with UT alumni, guest speakers, professional development panels, and other events. Cohorts have toured the 9/11 museum and memorial, taken a private tour of the New York Stock Exchange, the Tenement Museum, CNBC Broadcast Studies (including a taping of Mad Money with Jim Cramer), the Metropolitan Museum of Modern Art, and Radio City Music Hall. Students have attended a Broadway musical (with talkback session with cast and writers), The Tonight Show with Jimmy Fallon, and The Late Show with Stephen Colbert. In many instances, UT alumni living in NYC have played a role in facilitating these experiences.
Living in New York City
UTNY students secure their housing and can live in any part of New York. Students can choose to live in dorm-style housing, student apartments, longer-term rentals, or stay with friends or family.
No, UTNY highly recommends that students refrain from bringing a vehicle to NYC as parking is limited and expensive, and mass transit (e.g., subway, bus) in NYC is efficient and affordable. 
Costs
In addition to travel and personal expenses, UTNY students pay a $6,000 program fee and UT tuition for 12 or more credit hours.
UTNY posts all program bills on What I Owe. Students may pay by credit card, electronic funds transfer (EFT), or electronic check (eCheck). Students may submit a promissory note only for the program fee. Students may not enter a promissory note for the $1,000 non-refundable deposit.
The UTNY program fee covers operational costs of UTNY, including program management, the UTNY campus in Manhattan, curriculum oversight, internship support, and experiential learning opportunities and programming that are available exclusively to UTNY students throughout the semester. The University of Texas requires students to pay tuition in addition to the program fee.
Yes, as a participant in the program, students are required to enroll in a minimum of 12 UTNY-specific credits, even if their degree does not require them.
Financial Aid and Scholarships
Students may apply to the Office of Financial Aid for assistance; similar to study abroad programs, a student's financial aid package may be adjusted to cover the additional cost of attending UTNY.
For questions about financial aid, registration/student records, or admission, email Texas One Stop or call 512-232-6988.
UTNY is a UT program, and as such, students may be able to use UT scholarships toward participation in the program. These scholarships come from a variety of places—college, department, student organization, etc. Students also can apply most tuition assistance programs toward tuition during the semester of participation.
There are also UTNY-specific scholarships available by college/school to qualified students. These are typically awarded to students shortly after admission to the program.
Miscellaneous
Students can withdraw from the program at any time but will be held financially responsible for all fees incurred per the semester timeline. Fees are non-refundable after the payment deadlines.
UTNY and UT Austin are not responsible for any costs associated with withdrawing from the program.
UTNY schedules information sessions throughout each semester that answer most questions about the program.
Register for an information session.
Also, students should talk to their respective support groups that may include family, academic advisors, career counselors, and the financial aid office. Students considering applying for a specific semester can reach out to Kate Uhlrich. 
Questions about how UTNY classes apply toward degree plans should be directed to the academic advisor in the student's major or college.